GRC Defined
GRC is an acronym for governance, risk, and compliance; it's a term that refers to an organization's strategy and management for each of those three components. GRC is a structured approach to managing these various aspects of great importance to an organization's success and aligning them with business objectives. To better understand this, let's briefly breakdown each of the three components. Consider all of these definitions together to get an understanding of GRC's place and purpose.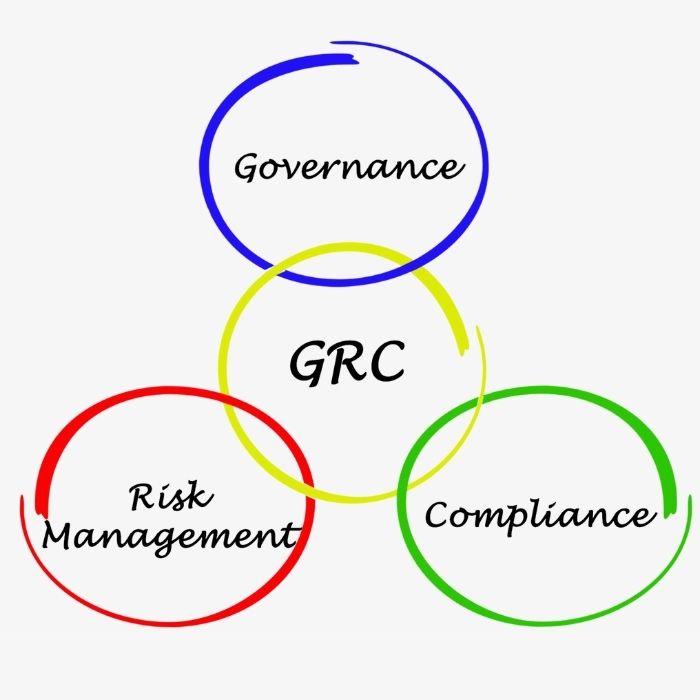 Governance
Governance is the act of monitoring and leading your organization. It includes rules, practices, and processes, which are controlled by a designated party of power. This is going to ensure that all activities are analyzed for their impact and are best utilizing company resources to support business goals. This is a high-level view of an organization, looking at processes, relationships, functions, and more.
Risk
Risk, or most commonly referred to as risk management, is the process of identifying, assessing, and mitigating threats to an organization's success. This process dissects the potential consequences of an action, or no action, upon an existing risk. Every organization has its own set of unique risks, dependent on the industry, location, customers, etc. Existing frameworks and regulations help create a base for risk management and allow you to craft a roadmap for managing risks.
Compliance
Compliance is the process of making sure your organization operates in a manner that follows a set of standards or rules. This can include a set of custom policies you have created, local laws, industry standards, and regulations. Compliance is an important component as it intersects with governance and risk, dictating how the company can move forward in achieving goals and managing risks. Compliance guides the actions of an organization and should be considered every step of the way.
GRC Benefits
Clearly, these are beneficial components when brought together, but it can seem daunting to tackle so much at once. The question then becomes, is the effort worth the benefits? Absolutely! Not only are many aspects of GRC required for your business to function, they actually contribute towards overall success and prosperity. Some of these benefits include: – Cutting Unnecessary Costs – Increased Transparency – Increased Stability – Increased Efficiency – Standardized Processes – Improved Consistency – Better Resource Allocation – Eliminate Silos
Top GRC Challenges
Businesses operate in complicated and highly complex environments that make managing GRC a difficult task for many. Most organizations will encounter these challenges, often several at the same time. Being aware of common challenges can help your organization in planning to ensure solutions are properly accounted for and implemented.
Program Complexity
Many GRC programs are highly complex, causing complications through a lack of understanding and transparency. A lack of board-level oversight creates communication barriers and prevents the identification of inefficient policies, processes, and controls.
Organization-wide Compliance
Many organization's operate in silos, creating separate groups and practices. This causes issue when looking at the organization through a compliance lens. Many businesses will have dedicated teams of staff members responsible for addressing regulatory requirements and laws. The challenge arises from the fact that even a single team member not performing their duties in accordance with regulations can result in a penalty on the organization as a whole. Therefore, its crucial to instill a culture of compliance awareness across all staff members in every business unit.
Non-standardized Metrics
Inconsistent or unreliable metrics make it difficult for an organization to properly identify the greatest areas of impact. Without knowing the greatest risk to an organization, it becomes impossible to properly allocate resources to best align the organization with requirements, business goals, and mitigate risk. Inconsistent metrics also make it difficult to present data to the board in a clear and meaningful way, thus affecting the approval for projects.
Cyber Risks
Cybersecurity is a large and ever-growing issue for organizations. This comes with difficult activities such as assessing security programs, assessing security related policies, reviewing budgets, assigning responsibilities for security and privacy efforts, and monitoring reports. These risks become increasingly difficult with the involvement of personal devices and cloud-based services that create the potential for breaches.
GRC Suggestions
Embed GRC into Corporate Culture
As we mentioned previously, every member of your organization needs to be compliant. This is particularly true with constantly evolving regulations, policies, frameworks, and more. This has to start with leadership and implementing meaningful trainings and conversations that highlight specific actions and how governance, risk, and compliance align with activities.
Start Small
GRC can be difficult to manage. Start small with specific areas of your program, such as data privacy or anti-fraud. Tie these into your overarching plan and slowly build out your entire GRC program. Focus on key processes at the beginning and identify risks in these areas to start. As you establish a plan for monitoring and managing those risks, you can keep expanding and tie processes together, always working towards eliminating redundancies and improving efficiency.
Find Management Solutions
The biggest suggestion is to find a solution that contributes to visibility, simplicity, and efficiency in your GRC program. This will likely be a software platform that automates key functions and brings together data from multiple sources in a single location. This impacts transparency, ensures reliable and consistent data, and focuses organizational efforts.
RiskWatch for GRC
As you begin your journey to bettering GRC in your organization, start with a free trial of the RiskWatch platform. The platform functions as a central repository for all governance, risk, and compliance information throughout your business, increasing organization and transparency. Automation of key functions increases accuracy of data and increases the amount of time available to spend on other key factors, such as mitigation and analysis. These automated functions include instant report generation, instant data analysis, automated communication and escalation, and more. Most importantly, users can easily view all assessment data, expressed in easily digestible charts and graphs, painting a picture of risk and compliance across your organization. Easily control and track all remediation activities as well.

Subscribe for our latest posts
Try any of our products, free.
Riskwatch products are easy to use, free to try, and can be customized to fit your business needs.