What is Risk Management Software?
Risk management software is a necessary tool that aids companies in preventing or managing a variety of risks. These risks include, but are not limited to, financial risk, physical security risk, cyber risk, compliance risk, operations risk, third-party risk, and more.
Benefits of Risk Management Software
Risk management software has numerous benefits that we will break down. Collectively, these benefits contribute to increased reliability, time savings, and increased reliability in an organization's total risk management program. Save time requesting, analyzing, remediating, and reporting on your data, allowing staff to focus more on reducing risk, improving security, and meeting compliance. We will name some benefits in the RiskWatch platform that should be requirements when you are looking at the best platform for your company.
Quantify Risk
Replace subjective analysis with objective criteria in a defined and structured process that promotes tracking improvement over time. Proper risk management software will utilize risk scoring. Risk scoring is the process of attaining a calculated score that tells you how severe a risk is, based on several factors. Without a standard model for risk scoring, risk and security teams would continually struggle to communicate internally about how to allocate resources appropriately to minimize costs and impact to business. This improves visibility and understanding of risk across an organization.
Integrated View of Risk Management
Effective risk management enables a holistic view of risk across all business departments and functions, allowing teams to better protect the organization and manage resources by avoiding overlap and preventing gaps.
Time Savings
Risk management software increases efficiency by automating key functions of a team's responsibilities, such as data collection, analysis, reporting writing, radiation, etc. The RiskWatch platform in particular sees a 74% reduction in time compared to a manual process. This is thanks to the aforementioned automation, as well as our software's intelligent analysis methodology that pre-analyzes data to determine what data needs to be collected, if a recommendation needs to be offered, or if a task needs to be assigned.
Continuous Improvements
With real-time analytics and updates, teams can consistently work on mitigation and implementing controls that reduce risk and improve compliance. Tasks can be implemented and updated frequently as data comes in, adjusting for end-users in real-time and keeping the team on track.
Customizable Software
Software should be adaptable to the organization using it, eliminating unnecessary steps, using familiar reports and relevant terminology. Risk management software adapts as your organization grows, meeting your changing needs and managing new risks as well as old ones. No coding is necessary at the user end. Adjust charts to display data in the desired formats, select which type of data is displayed, adjust terminology, and more.  RiskWatch software adapts to the user, allowing any type of assessment. The language preference is customizable to each user, preventing barriers of communication between different locations. Automatically generated reports also offer customizations to the templates, allowing reports to be exported in the same manner they have always been presented in an effort to reduce confusion.
Risk Management Software Outline
Good risk management software will accommodate a typical risk assessment process, providing benefits to users at every stage. It's important to find a platform that works for your organization and meets all of the required needs. See various platforms
here
and compare to see what works best for you.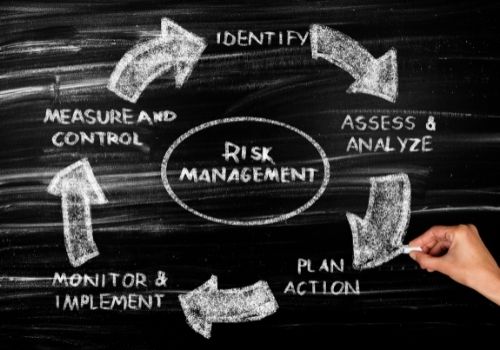 To begin, users will create an assessment for one or more assets and select the security controls that will be addressed. Automated emails will introduce designated staff to the assessment process and walk through how they will complete their tasks. Users will simply enter any requested information into the software, dependent on the selected content libraries. This eliminates any paper writing or using spreadsheets, improving accuracy and security. Next, a user will determine the assessed risk based on customizable scales and metrics for the asset, such as likelihood, impact, or data from third-party data providers. This data is scored automatically by the system once a value is assigned, streamlining the process, and eliminating subjectivity in scoring. Software will automatically highlight security gaps or non-compliance at each site, allowing teams to evaluate and create their own recommendations or approve mitigation tasks suggested by the system. Mitigation tasks identified will then be assigned to relevant users to close security gaps and improve risk scores. These tasks, thanks to risk scoring, can be prioritized based on available resources and the greatest impact on the organization. Custom reports can also be generated, eliminating manual report writing. These can include various breakdowns of data collected within the platform, such as compliance to selected content, price estimates, the status of any tasks, risk comparisons of locations, and more.
Platform Security
Security is a major concern for company software, and software that manages your risk should never be an area of concern for you. Be sure to verify how your data is protected, where it is stored, who has access to it, etc. The RiskWatch platform provides a highly secured service. The data between the customer's browser and our server is encrypted using AES 256bit encryption. All information contained in the database has AES-256 encryption and PBE with MDS & Triple DES. The database is also backed up daily and securely sent to an offsite location where it is encrypted for a second time and stored for Disaster Recovery and Business Continuity. We host on AWS servers located within the United States and Canada. You can also opt to host the platform on your own network for more hands-on control.
Compare Software
Get started today and complete your first three risk assessments for free. See the power of an intuitive, streamlined process.

Subscribe for our latest posts
Try any of our products, free.
Riskwatch products are easy to use, free to try, and can be customized to fit your business needs.